I did post one years ago "Azure Server Management Tools". The Post explained "How to use Azure Server Management" and it also has three different part. But, I'm willing to give you details for Windows Admin Center. Actually, Microsoft has announced this product "Project Honolulu". But İt has changed to "Windows Admin Center". I'm keen to work with this product because it's working with agentless. Indeed, Windows Admin Center is browser based management your Windows Servers without Azure or Cloud dependency. Also, Windows admin center is the future of remote server management designed to modernize and simplify the IT administrator experience. if you want to perform a management task on a machine there are almost twenty different tools. Perhaps we've consolidated all these tools into a single machine. Maybe we called it "Admin Management Server". We have almost deployed all tools
Windows admin Center think of it as the evolution of traditional inbox management tools like MMC it's great for administrators that need a lightweight management solution for smaller scale deployments or ad hoc management for large scale deployments.
How does Windows Admin Center Work?​
Basically, IT Administrator runs in a Web Browsers and manages only these type of VMs.
Windows Server 2016
Windows Server 2012 R2
Windows Server 2012
Windows 10
Also, The Windows Admin Centers has particularly roles. These are called to "Web Server" and "Gateway". You can install Windows Admin Center to Windows Server 2016 and Windows 10. As a matter of fact, It is quite beautiful to have a chance to install Windows 10. According to me if you are planning install that services, you should try to Windows Server 2016. I'm going to explain roles.
Gateway : The gateway administers servers by using Remote PowerShell and WMI over Windows Remote Management. Also, The gateway is included with Windows Admin Center in setup package.
Web Server : I could say, The Web Server is included same package with Gateway. In other words, Windows Admin Center in a single basic "msi" package that you can download it.
Let's have a look that picture.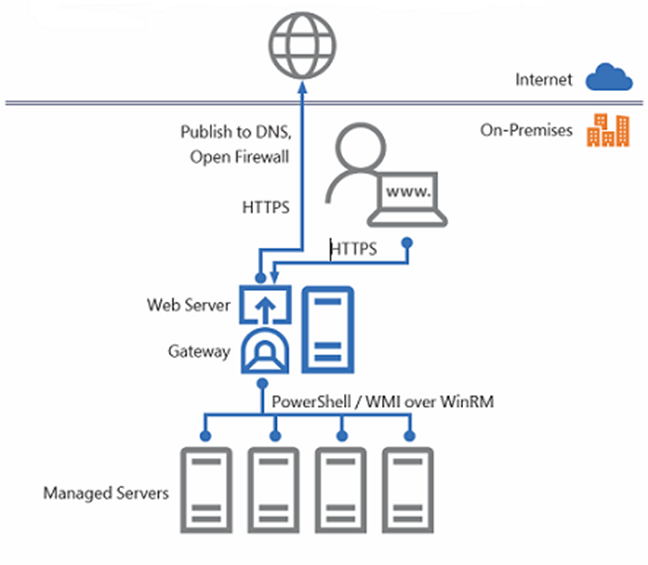 Windows Admin Center defines your management environment​
Integration existing solutions, The Admin Center works with Microsoft products like System Center and Azure Operation Management Suite. It gives you "Manage your Infrastructure Single Management Console". In the other hand, Windows Admin Center contains many of the familiar tools you currently use to manage Windows Servers and clients so you don't need lost your time for adaption. In Fact, it is installed easy and you will use familiar functionality to manage your servers like "Microsoft Management Console – MMC". However, if you are implementing your firewall and DNS server, you will be able to access your Windows Admin Center on the Internet. Windows Admin Center has a lot of points of integration with Azure services, including Azure Activity Directory, Azure Backup, Azure Site Recovery, and more.
I'm quite excited to huge features Extensibility for Windows Admin Center. Microsoft and 3rd party developers to build tools and solutions beyond the current offerings. Microsoft offers an SDK that enables developers to build their own tools for Windows Admin Center. If you are excited like me, you can look at this page. Windows Admin Center- SDK
Next Article, I will be writing for "Install Windows Admin Center".